The Orangerie de la Touchardière
The most charming and light-filled Orangerie de la Touchardière was designed to combine refinement and sobriety.
This place offers comfort thanks to its high-quality assets, as well as sobriety so you may feel at home.
Whether you want to rent the Orangerie for a long week-end getaway or to stay with friends, for family holidays, or even for a family reunion, or because you are a fan of car racing (24 Hours of Le Mans, Mans Classique) or of equestrianism (Mondial du Lion-d'Angers and the Cadre Noir of Saumur), or for professional reasons, you will be given all our attention and hospitality, and we will guide you through your discovery of Anjou and to help you organise your activities if you wish it.
You will reach the step-less ground floor through a warm and gorgeous room called "le Débotté", where you will be able to have a tasty, friendly breakfast every morning.
Then, a light lounge and dining suite will let you share moments with your family or your friends, with a view on the light-bathing château and with direct access to the park and its century-old trees.
The pared down and refined decoration of the Orangerie gives you a soft, warm atmosphere for a relaxing stay.
The dining room and the lounge look out onto the château and the magnificent heather land.
Our eight elegant, quiet, cosy bedrooms carry the names of the various farmsteads that are distributed across the Estate, and are located in each of the Orangerie's wings.
Their style is classical and pared down, noble materials and light, natural colours were favoured, and the entirety of works were performed by local craftspeople whose know-how was essential in making this chic and timeless universe a success.
Our bedrooms are equipped for 2 people with queen-size beds.
It is possible to add a folding crib for children in the 2 largest rooms in each wing.
On your demand and in certain rooms, it is possible to divide up beds into 2 single beds.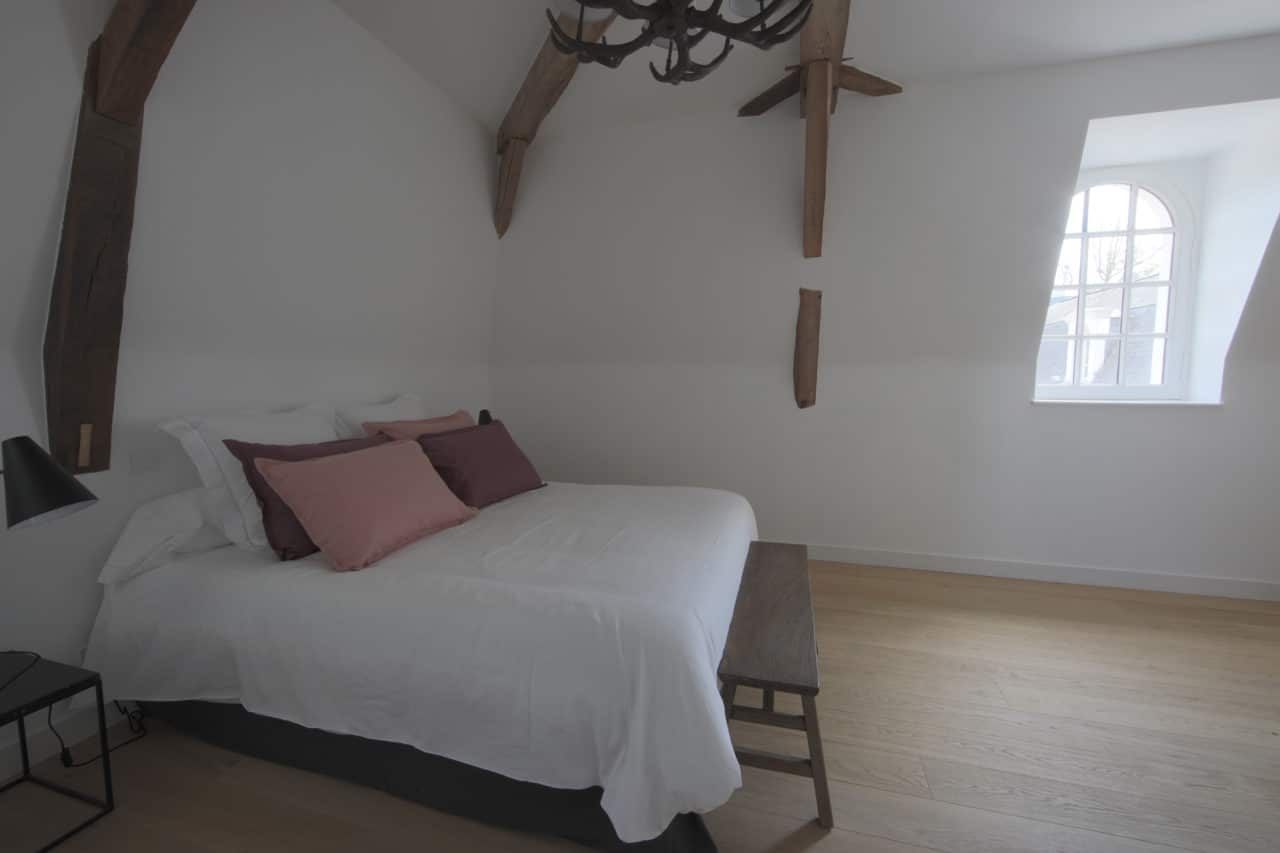 Le Grand Montrieux
At the end of the corridor lies a large, light room, with grey and white shades enhanced with touches of old pink and chocolate brown.
You will have a bucolic view on the heather land and on the woodshed, and you will be awakened by birdsong.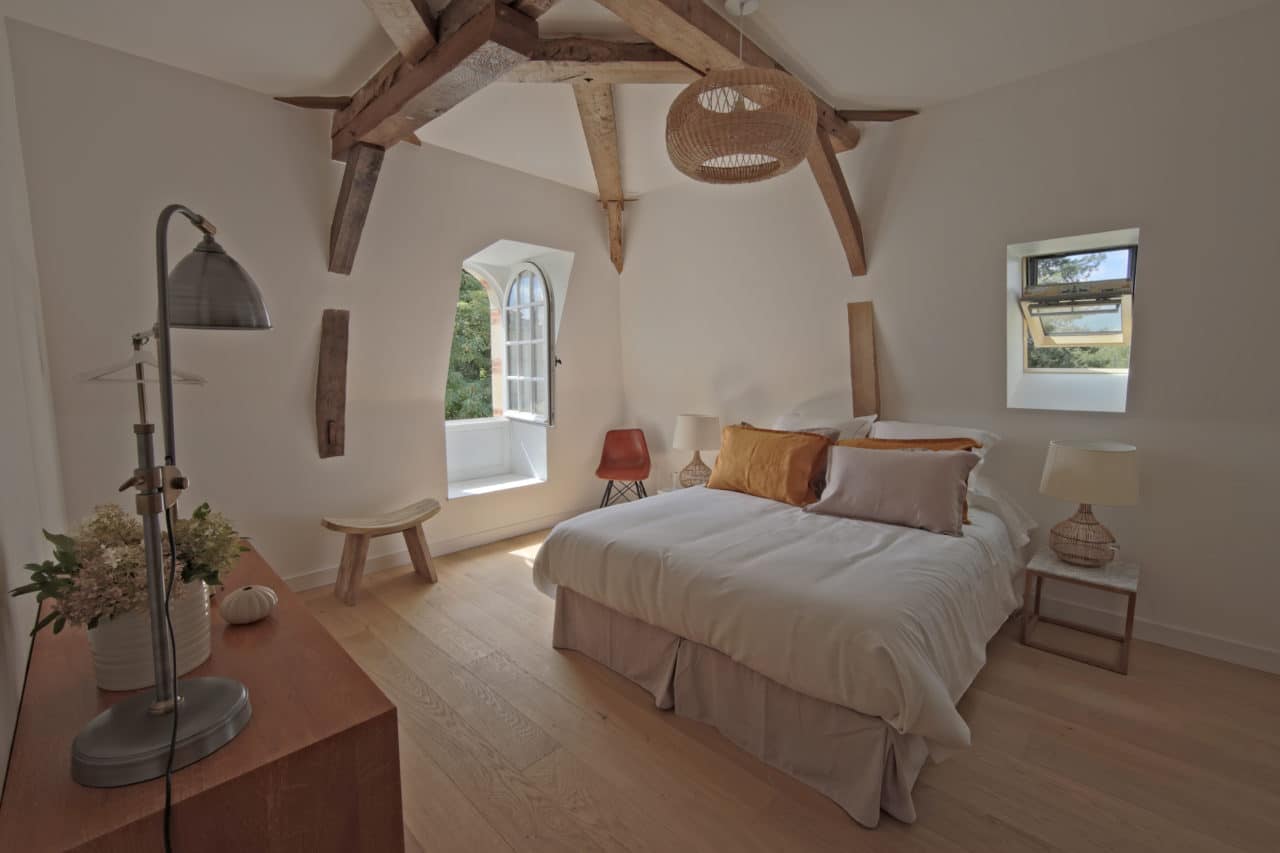 Lavau
A lovely room with exposed beams, it owes its lightness to sun-bathing, and offers a magnificent view on the château and the park.
In beige and white tones, touches of yellow and grey ochre will be the final element to refine this room.
In the morning, you will be able to spot partridges and pheasants with the first sunbeams that engulf the park and the château still shrouded in morning mist.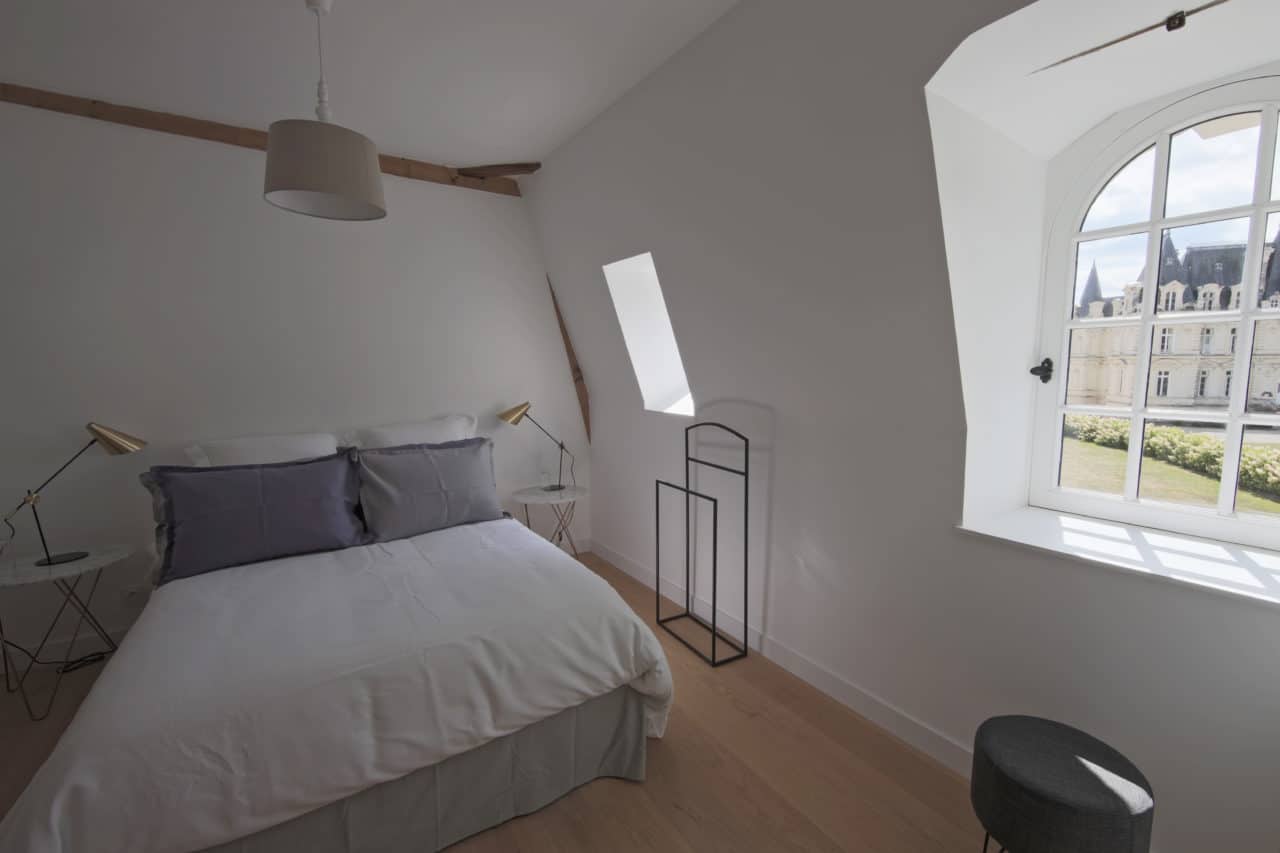 La Molière
A large, light, elegant room, with blue harmoniously shading over the walls.
The gorgeous view on the château and the park will take you on the path to serene nights and gentle awakenings amidst this rich surrounding nature.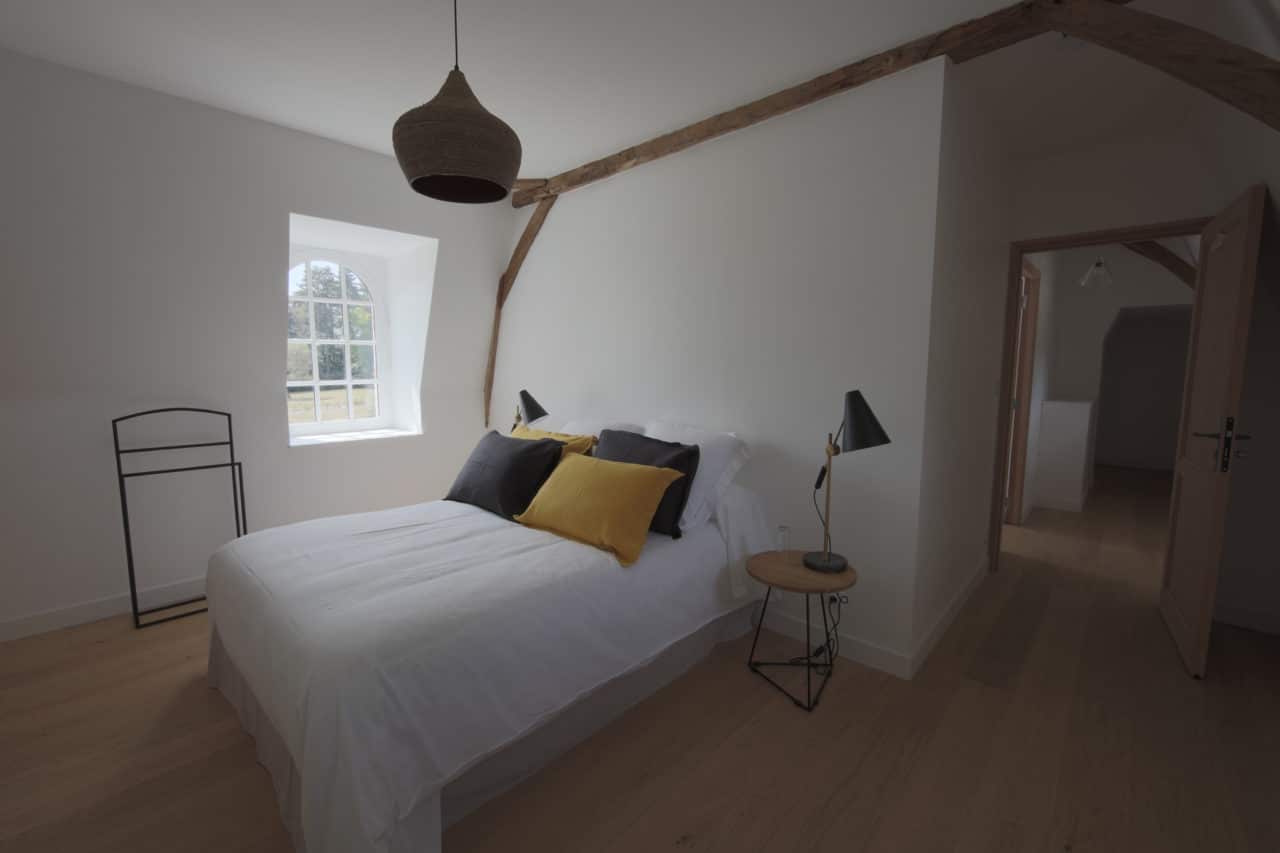 Cromar
Spacious and very light, it includes a large bathroom and offers a ravishing straight view on the château and the park.
In perfect harmony with the area and the surrounding nature, you will spend sweet and quiet nights, and so will you wake up.
This room can perfectly host a couple with a baby and we will provide you with a folding crib as well as a high chair for your children.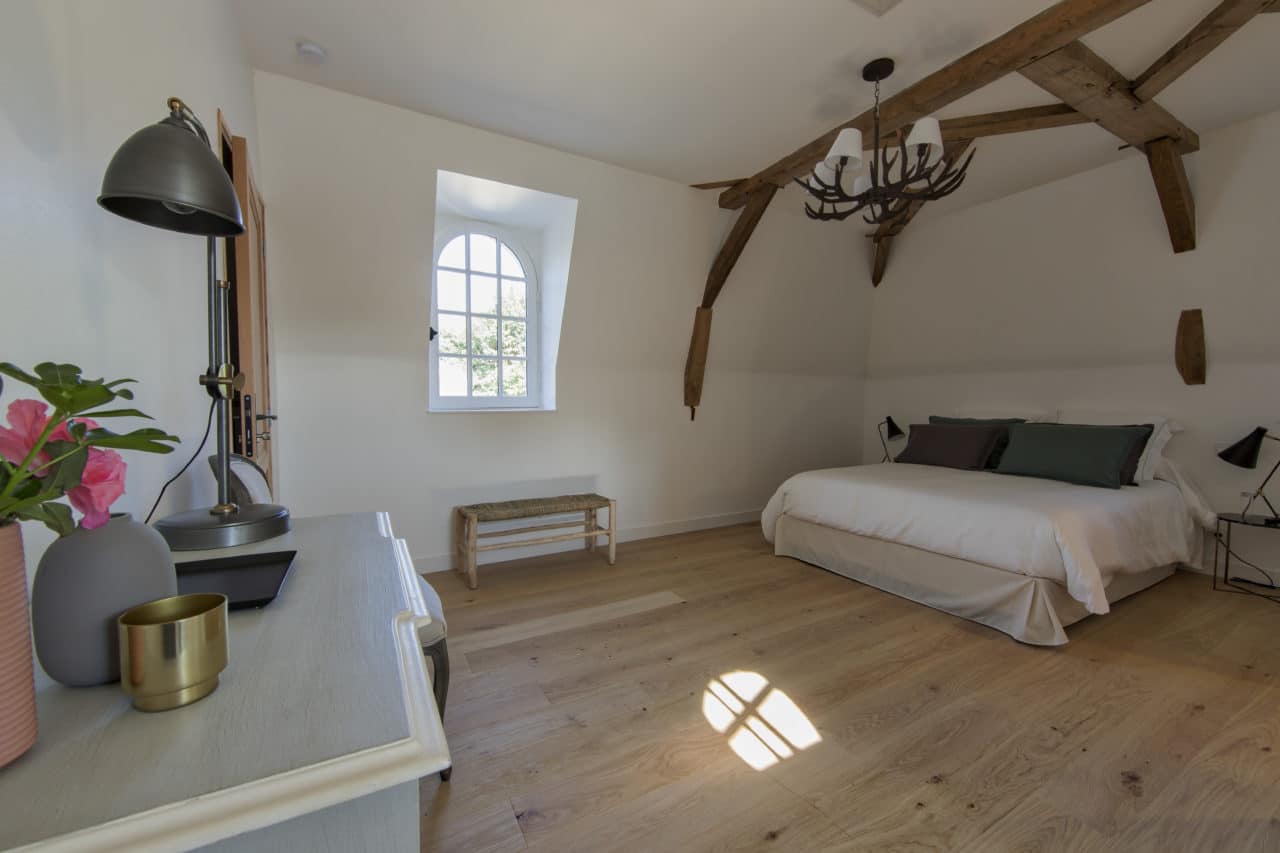 La Touchardiere
A light room that overlooks the heather land and the communal areas.
The light, natural tones of materials and pieces of furniture give this room a certain charm, and the excellent bedding as well as the quiet place will guarantee you high quality nights of rest.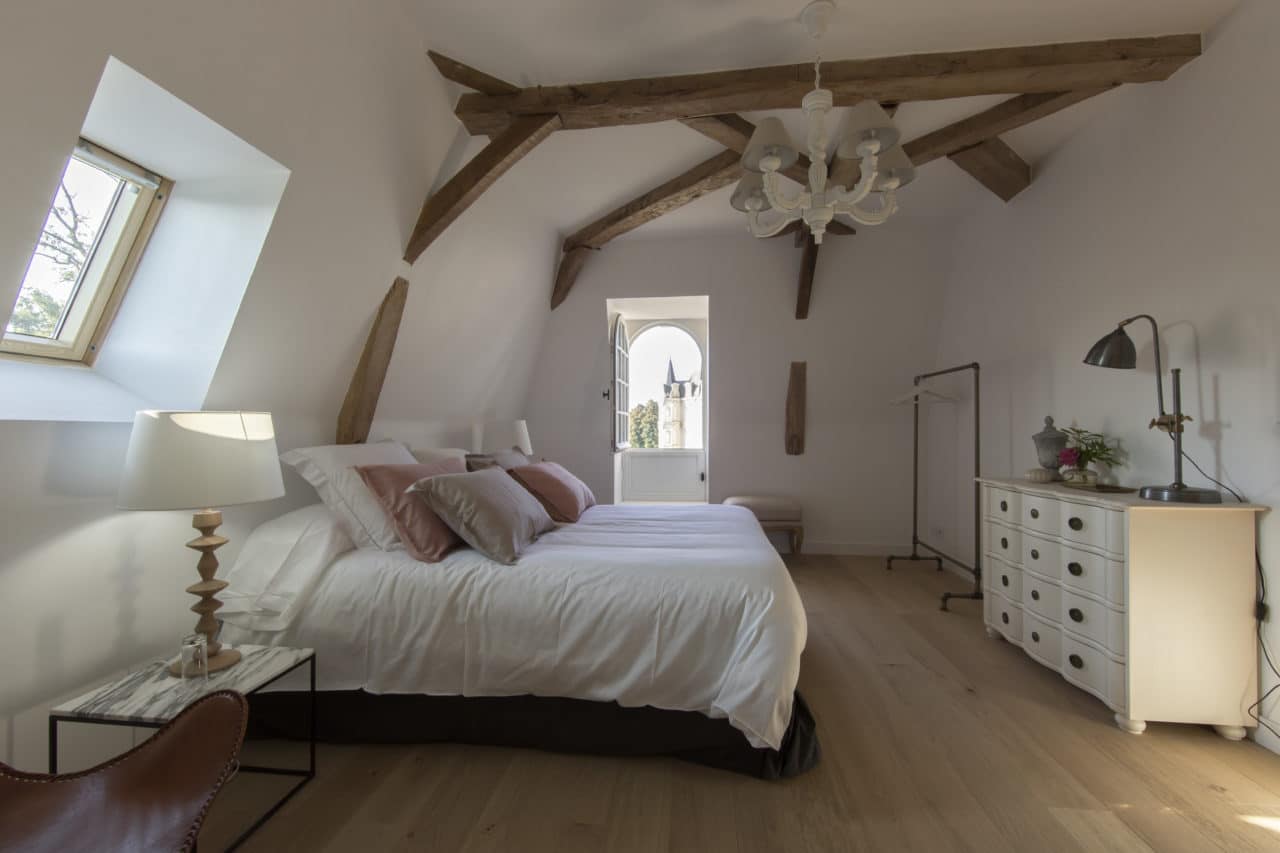 Les Arcis
A most lovely room that splendidly looks out onto the park and the château, it owes its authentic and refined character to the pastel variations, the natural wood floor, the exposed beams and the leather/wood combinations: you will particularly appreciate the visual elegance of finishing touches.
You will fall asleep while nestled in a verdant setting, and will wake up from a quiet night along with nature and its guests.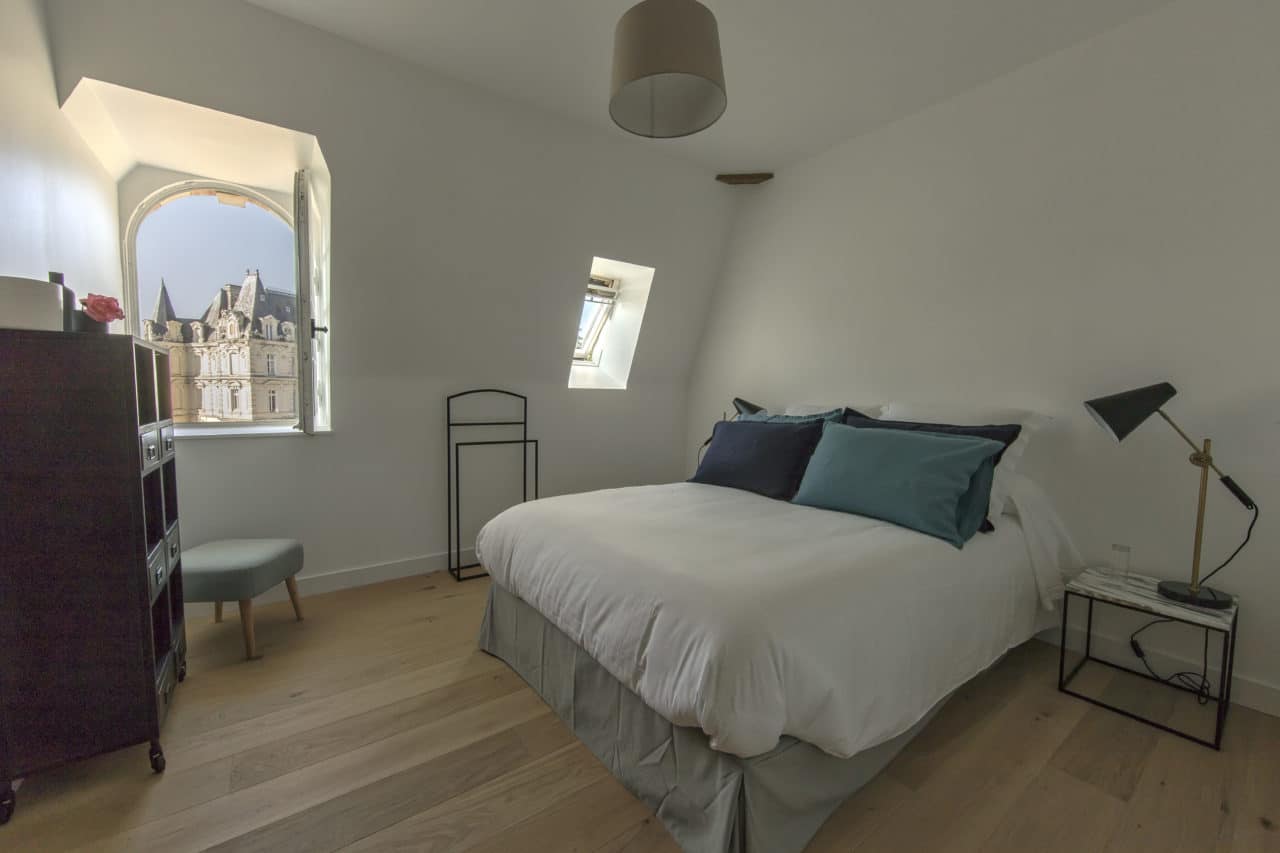 La Galaizière
A charming room with light shades of blue, it will enchant you with its gorgeous view on the château and the park, as well as with its bathroom, which includes great quality, thick-and-soft sponge towels at your disposal.
The pared down, elegant furniture and the irreproachable quality of bedding will guarantee your nights are as good as your days.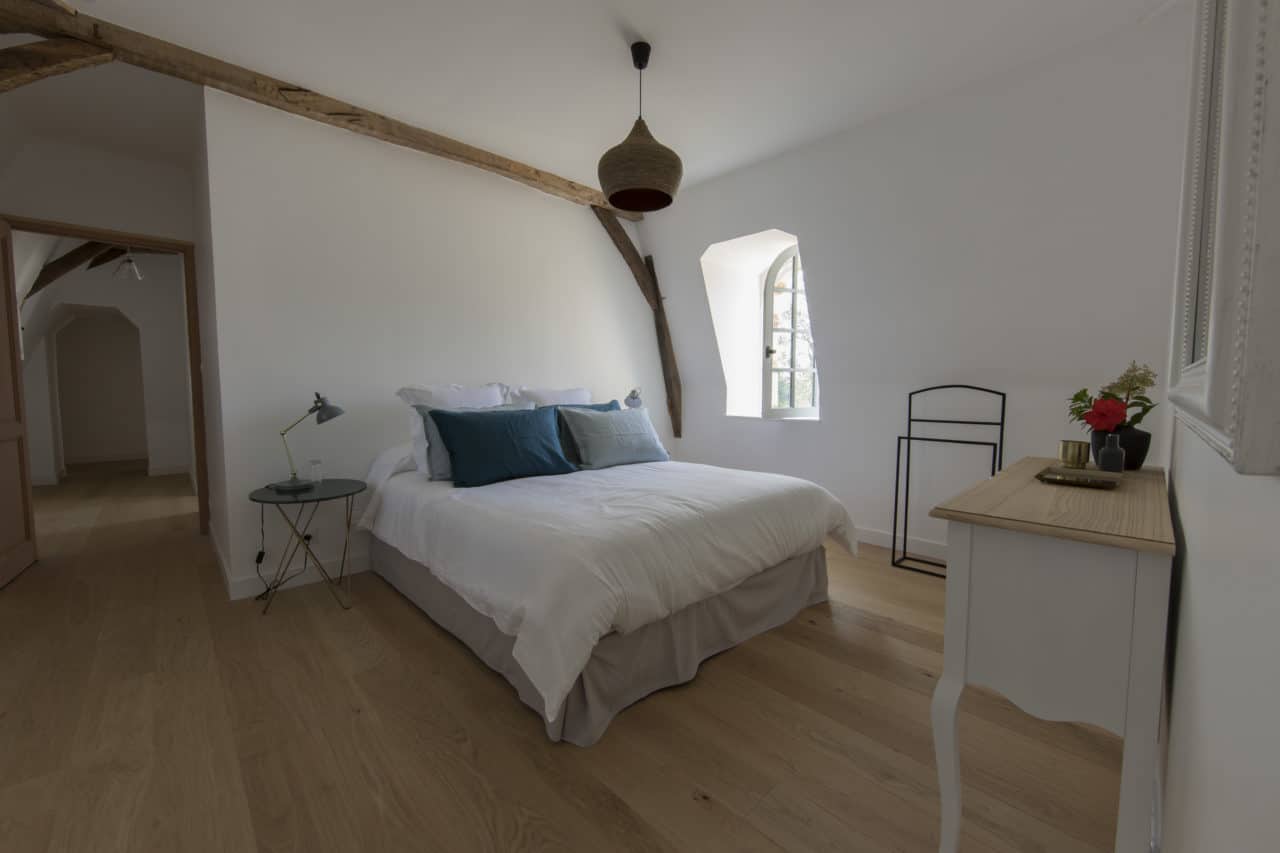 La Boussaierie
This large refined, elegant room, with its exposed beams and its both classical and timeless furniture, offers a stunning view on the château and the park.
With its high-quality bedding and its quietness, you will assuredly spend serene nights and wake up in an enchanting place.
You will find the same view from the large, fully-equipped bathroom. This room can absolutely host a couple with a baby and we will provide you with a folding crib as well as a high chair.
Our bedrooms are equipped with bathrooms, walk-in showers and toilets, and excellent quality towels made up of thick cotton are at your disposal during your stay, along with hospitality products and hairdryers.






Our rooms are NON-SMOKING
Located in the former vegetable garden, in the middle of orchard trees and surrounded with climbing chasselas vines, a heated pool is available for you to chill, play table tennis, have a picnic or grill lunch, or simply be idle!
Measuring 14 x 7m (46 x 23 ft), it is totally secure and with its 26°C (85°F) temperature, it is set in a privileged background of green and serenity for you to enjoy.
The pool is absolutely private for our hosts and is surrounded by a slate wall that reflects the heat of the day at night, which allows you to fully enjoy your evenings.
Loungers or mattresses let you relax away from the gaze of outsiders, and children's games, rubber rings and pool towels are at your disposal during your stay.
Under the awning, you will find a refrigerator as well as a barbecue, tables, chairs and parasols so you can have a drink, lunch or dinner at pool's edge (crockery provided).
The pool is totally secure, nevertheless children must remain under the watch and the full responsibility of their parents.
Starting from the park, take part in an extraordinary, unusual adventure: taking off in a hot-air balloon (on reservation and take-off subject to weather conditions). This unusual, extraordinary adventure will let you fly above the estate and experience incredible sensations.
When the night is come, we offer a galaxy of shooting stars for you to gaze at in the company of a passionate astronomer (on reservation).
You will be able to enjoy the many activities available:
Tennis table
Trampoline
Children's games
On the day of your arrival, once we will have shown you round the Orangerie, we will be glad to offer you an aperitif in the lounge, on the terrace or by the pool, in the hope of giving your stay a lucky beginning.
Breakfast
If you take this option in the price of the rental, our breakfast comprises local products, breads and pastries, fresh fruit juices, honey from the estate's hives, artisanal jams and yoghurts, and home-made dairy and farm produce, which you will be served in refined crockery.
Coffee, espresso, tea and other sweets will also be at your disposal on our sideboard, to be served in the "débotté" room.
If you wish to prepare your breakfast by yourself and make your stay more enjoyable, we will supply you with fresh bread and croissants, free of charge.
During your stay at the Orangerie, coffee machines will be at your disposal.
Lunch and dinner
Our chef will be able to prepare your lunch or dinner (on demand when booking your stay).
You will then be able to have dinner in the dining room while facing the château or the heather land, or on the terrace if you wish to further enjoy the end of a sweet afternoon and behold the ever-splendid, often incandescent setting sun at the end of the park.
With regards to meals, please let us know about any food intolerances or allergies.
A high-end charming guesthouse
By warmly hosting you in this haven of peace that looks out onto the countryside, we wholeheartedly intend to make you discover a way of life and a unique experience that helps you revitalise yourself.
We are available to guide you through the discovery of our region, which is endowed with a protected nature, a diversified heritage and a vast array of sports and cultural activities. We can provide you with advice as to what activities to do or what places to visit around the Orangerie.






Our rooms are NON-SMOKING
We remain at your disposal either through the following text form
or by phone at +33 (0) 6 20 39 53 22
so that we may review together the stay you wish to plan..